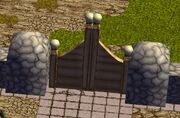 When placing down Starting posts it is important to make sure that it is snapped to the tiled grid. This is done by holding down the CTRL key before placement. This will also prevent face-palm situations when you realise that the gap to build a gate is either too big or too small because you forgot to snap-to-grid beforehand.
Ad blocker interference detected!
Wikia is a free-to-use site that makes money from advertising. We have a modified experience for viewers using ad blockers

Wikia is not accessible if you've made further modifications. Remove the custom ad blocker rule(s) and the page will load as expected.